Despite the open door, kitten slept in bed with me (and my ice pack) all night.
Excepting for the part where this is my lj and I can write whatever I want, sorry about that last post.
Jon
privatelyricist
was right. It's a shitty cycle. Something I've faced before and will face again. I've become a bitter selfish old woman (at least at times).
I had dreams about narrowly escaping death in a plane (along with Sarah), which is silly, because I LOVE flying. In fact, I don't even mind the jumping out part. My inner ears don't like it so much, but who needs them, anyway? ;) Also...stupid dreams about my camera and a giant pirate ship with a bunch of keys in it. *shakes head* The things your brain wheadles on about in your sleep.
Tomorrow at this time, I'm going to be MELTING in Los Angeles. I love it. Jeanne (and anyone who's in the area, really!!), if you're not busy on Monday, come to Disneyland with us!!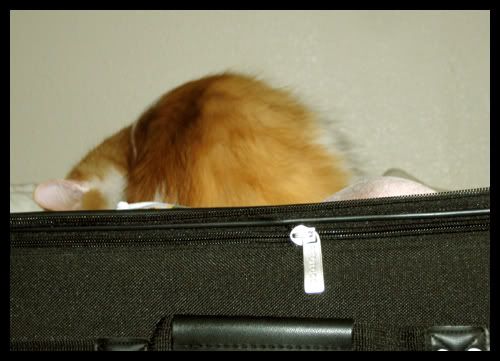 Taylor trying to pack himself in my luggage. :)
Also:
(
Collapse
)