Note: This is my LJ with my feelings and it's for me, whether or not you want to read it. You've been warned.

I did something that was for the best but I'm not proud of it. There are many things that I'm not proud of, but it's life. Regret nothing, right? I hate me sometimes, the way things go through in my head, the way I feel when I get into a mindset and nothing can change it. The way I feel when I'm holding out, waiting for my heart to reconsider. But it doesn't.

It's become a turning point somewhat in my life. Not so much today, but this time. Me coming to terms with things, events, cancer, and such. A turning point. A realization. A coming to Jesus, if you will. A re evaluation of myself, my life, etc. Go me.

I hate it when I talk in prose but don't say what I'm trying to say.

Warning: religious talk. If you say one rude thing about the following, I will send my minions (10,000 tarsiers) after you.
tarsier: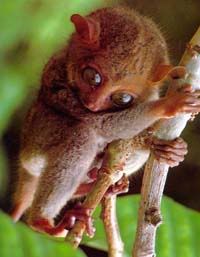 I think if I'm not scheduled to work on Friday (at my new job! I have a job!) I will go to Hillel. I've been mulling it over in my brain for sometime, what it means to be Christian as opposed to Jewish. Jesus seemed like a groovy guy. Gonna see what the Hillel has to offer. Must call Lauren and ask her about it.I'm thinking about converting...